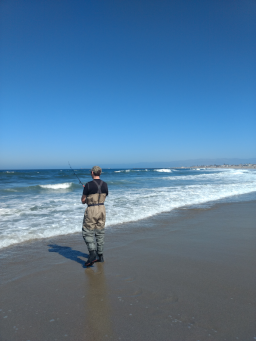 Tyler is a Southern California Zoomer transplant to Southwestern Idaho. This is where he documents his journey in learning about, thinking (and overthinking) about, practicing and enjoying: recreational fishing, the art and science of outdoor cooking, the hunting and harvesting of wild game and various related pursuits.
A substantial volume of existing content addressing these topics through books, blogs, online video channels, podcasts and so forth operate (or at least claim to operate) from perspectives of seasoned-wisdom, significant life-long experience, professional-level expertise and inherited traditions.
By contrast, the goal of this blog is to share and produce content from a younger, largely inexperienced and somewhat outsider perspective formed by a suburban info-tech and internet immersed upbringing. This may include posing questions, analyzing ideas and offering opinions not widely expressed in other public media, or simply describing significant experiences as experienced.
Beyond self-education the primary hope is content published here will help others (possibly coming from similar places) evaluate, learn and enjoy these hobbies and subjects in kind.
Outdoor Recreation Resume
raised spin-tackle fishing modest freshwater lakes in Southern California, targeting largemouth bass and other sunfish, and eventually channel catfish as well
in Autumn 2016, took up surf fishing the Southern California coast, primarily for barred surf perch
in Summer 2017, took interest in charcoal grilling, purchased Weber Jumbo Joe 18" kettle grill
in Summer 2019, had the opportunity to visit Southwest Idaho and try fly fishing, caught first rainbow trout on a nymph
also in Summer 2019, began practicing a high-fat-low-carb diet, which lends well to meat-oriented cooking
in Autumn 2019, began experimenting with pellet-grill cooking
in Summer 2020, moved to Southwest Idaho intending to focus on abundant opportunities available there
Outdoor Goals
TODO
land a legally harvestable brown trout on the fly
land a legally harvestable California Halibut from the surf
Favorite Outdoor Recreation Content and Educational Resources
Podcasts
MeatEater Podcast (MeatEater)
Cutting the Distance w/ Remi Warren (MeatEater) & Wild and Whole w/ Remi Warren
Hunt Talk Radio w/ Randy Newberg
The Orvis Fly Fishing Podcast w/ Tom Rossenbauer
TODO
Books
TODO
Organizations and Projects I Support
TODO
Author's Website